Wonderful World by Brynn Stanley and SonoPath Music
Piano: Bill Cantos
Trumpet/Producer: Tony Guerrero
Engineer/Producer: Jorge Vivo
Executive Producer: Eric Lindquist
CLASSIC CHRISTMAS :: NOW AVAILABLE!
Brynn has continued her successful collaboration with Eric, Tony and Jorge for the production of her album, "Classic Christmas," which has been released September 20th, 2019. A shared vision, complementary personalities and combined talents blend into the perfect collaborative team. Brynn's vision is to bring the warmth and nostalgia of her childhood memories through a unique selection of classic holiday favorites. The team's exceptional arrangements around timeless holiday classics will bring joy into the homes and hearts of every generation for years to come.
Order your copy of what County Living is calling one of the 10 best  new Christmas albums released in 2019!
Order Today!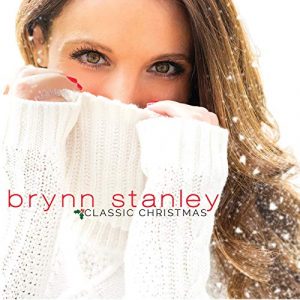 TRACK LISTING:
1. Rudolph the Red-Nosed Reindeer
2. Let it Snow! Let it Snow! Let it Snow!
3. This Time of the Year
4. Santa Bring My Baby Back (To Me)
5. Meet Me In The Middle (In The Snow)
6. Selfie With Santa
7. Jingle Bells
8. Have Yourself a Merry Little Christmas
9. I Love the Winter Weather
10. What Are You Doing New Year's Eve?
About Brynn
Over the last few years, Brynn Stanley has been charming audiences on both coasts, from New Jersey to Los Angeles, honing her smooth, silky voice in preparation for this moment:  the release of her brand new "Classic" EP. The disc presents a beautiful interpretation of some of Brynn's favorite American standards, wrapping her voice in a classic setting including a swinging rhythm section, a full big band horn section and a lush orchestra. Audiences and critics have raved about her voice, a unique blend of classic vocalists like Ella Fitzgerald and Peggy Lee with modern stars like Norah Jones and Diana Krall. Her style has been described as "warm, classic, timeless, inspiring and sincere". 
"Young jazz singers come and go. This one, with her sultry voice and her instinctive understanding that less is often more, very much deserves to stay."


- H. William Stine, Turntable For One
WMNR Fine Arts Radio 
"Brynn Stanley's new album "Classic" is a treat from start to finish. The arrangements, the song selection, the musicianship, and above all – Brynn's singing is top-notch and an enjoyable listen. When we add vocalists to our library at WUCF-FM, they have to stand up next to Ella, Sarah, Carmen and Billie – and we feel that Brynn Stanley was of the quality to add to our group of jazz vocalists at 89.9. Bravo on a great recording!"  


- Kayonne Riley, WUCF-FM
"This is a great selection of songs given wonderful performances by Brynn. I can only complain about the fact that there aren't more tracks on it!"

- Charles Husson, Host-Evening Jazz
Hawai'i Public Radio